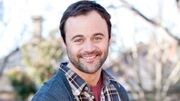 Kayne is adoptive dad to Finn and Stella Parker. His partner is Tom Parker but, will sadly not be returning. His best mates are all of the dads.
Kayne Albert
Age
Unknown
Occupation
Owner of the "Mildred" and Owner of Kanye's Pies
Family
Stella Parker (Adoptive Daughter)

Finn Parker (Adoptive Son)

Tom Parker (Partner)

Abi Albert (Sister)

Mark Oliver (Brother-in-law)

Poppy Oliver (Niece)

Sophie Oliver (Niece)

Portrayer
Gyton Grantley
First Seen
Episode One
Ad blocker interference detected!
Wikia is a free-to-use site that makes money from advertising. We have a modified experience for viewers using ad blockers

Wikia is not accessible if you've made further modifications. Remove the custom ad blocker rule(s) and the page will load as expected.